Focus 4 1 is proud to announce that we won the national Mind Marsh Awards for Mental Health Peer Support 2019, in the category of Peer Support in Marginalised Communities.
The award recognises the excellent work of national groups and projects where peer support is managed and controlled by people with lived experience.
 Clinton Henry, Kay Bourne(members of Focus 4 1), Mevin Anenden (a volunteer member of Focus 4 1's consultation board) and Directors Sarah Gibbs and Vanessa Anenden attended the awards ceremony at West Bromwich Albion Football Club in Birmingham.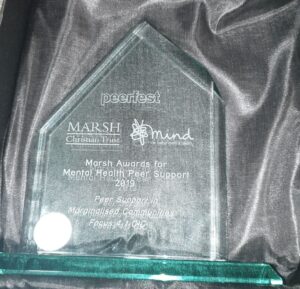 Photos the event can be found at: https://www.facebook.com/Focus41London/
https://www.twitter.com/Focus41London/